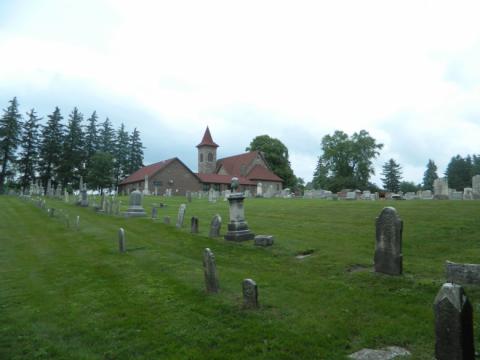 Recently, St. Paul and Grace graciously gave me a three-week leave of absence to conduct and compile historical research and information about the two churches. This was an enormously rewarding and successful endeavor.
Week 1 was spent translating, doing some cemetery sleuthing in the immediate Wausau area, and going on a day trip to Weyauwega and Budsin (rural Neshkoro) to take pictures and gather information. My wife and I located the grave sites of Pastors Arthur C. Stapel (St. Paul), Emil E. Zaremba (Grace), Wilhelm Hudtloff (St. Paul and ancestors of Grace), John J. Meyer (Grace), Andreas Schroedel (St. Paul), and William Wudel (St. Paul).
Week 2 was spent doing some more cemetery sleuthing especially in the Milwaukee area, compiling historical reports at the Wisconsin Lutheran Seminary Library, and traveling to Ann Arbor and Frankenmuth, Michigan, to see where Pastor Johannes Strieter (the first traveling preacher to regularly preach the gospel in the rural Wausau area in 1860) grew up and received his pre-seminary instruction. This was perhaps the most rewarding week of work. The highlight came on Saturday, June 29. In his autobiography, Pastor Strieter mentions receiving his pre-seminary training in Frankenmuth under Pastor August Craemer in the 1850s. He also mentions that there was a wooden frame structure next to the church on which two bells made in Germany were hung - one large and one small. These were rung every Friday at 3 p.m. to commemorate Christ's death, and Pastor Strieter often rang the large one. Almost by accident as I was walking through the St. Lorenz cemetery in Frankenmuth I came across this structure; it is still standing, and both bells are still there! Since a Saturday evening service was taking place across the road in the church, I very gently rang the big bell in remembrance of Pastor Strieter. The church also has granite posts marking the four corners of the old church building (the one that stood when Strieter was there), and a stone marker of Pastor Craemer's parsonage standing right next to the bells. Frankenmuth, now a popular tourist destination, was actually founded by Pastor Craemer, who eventually accepted a call to be a professor at Concordia Seminary, Fort Wayne, Indiana.
Week 3 was spent primarily translating what I found at the Seminary Library, but also doing some more cemetery sleuthing and picture taking. I also developed a preliminary thesis statement for my work. As a result of the translating, I now have the following primary source reports related to St. Paul:
Church Dedication (1905)
Pastor Theodore Hartwig's 25th anniversary in the ministry celebration (1907; one of my favorites thus far)
Parsonage Dedication (1916)
Pastor William Parisius' 25th anniversary in the ministry celebration (1918 at Immanuel in Globe, Wisconsin)
Pastor Heinrich Geiger's 10th anniversary in the ministry celebration (1920)
Sixtieth Anniversary Celebration (1921)
Mission Festivals from 1904-1927
Pastor Heinrich Geiger's obituary (1958)
And primary source reports related to Grace, town of Maine:
Church Dedication (1884)
Installation of Pastor

J. C.

Himmler (1886)
25th Anniversary of Church Dedication Celebration (1909; also a favorite)
Pastor

J. C.

Himmler's obituary (1916)
Mission Festivals from 1903-1928
And primary source reports related to both churches:
Pastor

E. C. G.

Markworth's obituary (1884)
Joint Golden Jubilee Celebration (1910)
Pastor Philip Samuel Estel's obituary (1920)
Pastor Johannes Strieter's obituary (1920)
Church record and other information about Pastor Johann Jacob Hoffmann
Please enjoy the pictures below. Hover over each one to get more information about it. You can also click on any of them to be taken to a slide viewer. I look forward to giving a presentation on my work to both churches in the near future.
Pastor Nathan Biebert
Tuesday, July 9, 2013 - 18:16